Story until October 2016
I grew up in a family of six. I have three siblings and I'm the third one in line. Both my elder siblings are married. Which makes me the center of all the concerns right now at home. Being 35 and single is not the best position to be in in India.
My father served in the Indian Navy so packing and unpacking has always been a part of life. 
This has been my journey so far:
School
↓
Engineering (Computer Science)
↓
Software Engineer (With Infosys)
↓
MBA- Human Resources (From XIMB)
↓
Placed in one of the Big 4 consulting firms (Mumbai)
Life After Oct 2016
In Oct 2016, very dramatically, I quit my corporate job in Mumbai and left for an adventure to fill my soul with joy again.
I backpacked around Latin America from Nov 2016 to Nov 2017 and it was the year that was life-changing in every sense of the word.
Since my return to India in 2017, I continued traveling for months on end in India and occasionally to other Asian countries. But, now I travel while also taking up freelancing work which ranges in commitment time from a few hours to a few months.
Some of the projects I have taken up in the last few years –
Leading diversity and inclusion initiatives at an Indian conglomerate
Project managing a backpackers hostel set-up in Kodaikanal, India
Painting a cafe in Mcleodganj, India
Freelance writing
Helped someone with spoken English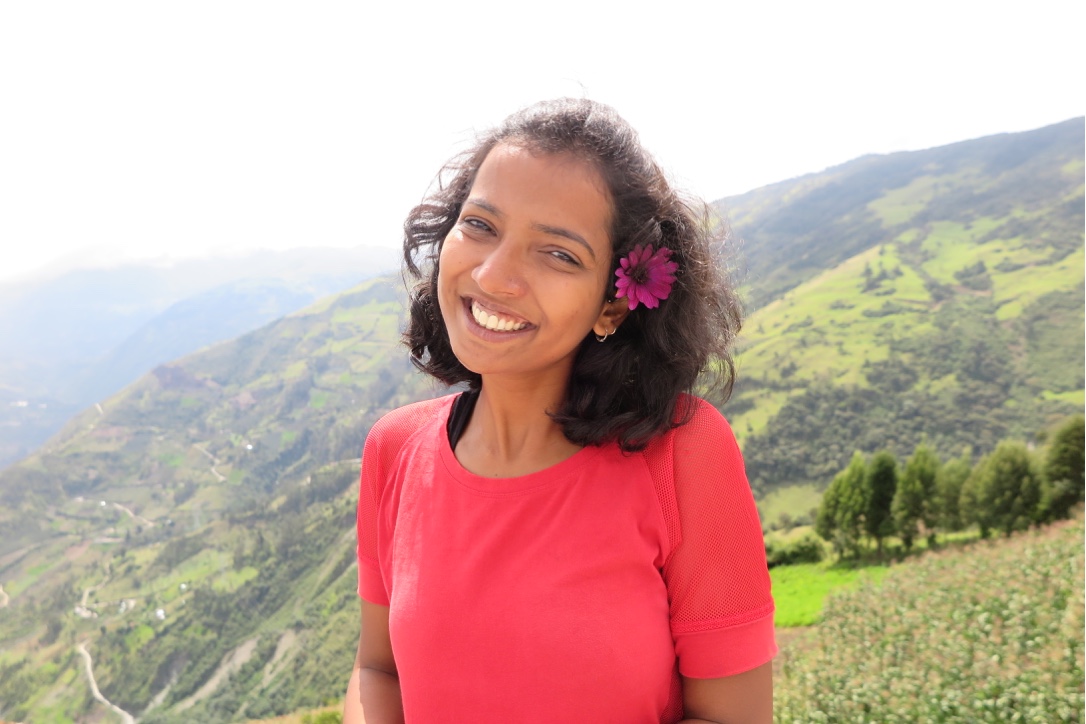 My Travel Style:
When I started traveling, I had the urgency of a wild animal let loose for the first time. But full-time travel changed that, now I prefer traveling slow, a month is what I have found to be my ideal duration at a place. I enjoy meeting locals, eating local food, and public transport is my preferred way of commuting (also pocket friendly).
I like quieter places where I can walk around to my heart's content. I enjoy hiking but I stay away from popular treks in busy seasons.
The Blog's focus:
I primarily write about:
Budget travel
Traveling as a woman
Traveling with an Indian passport
Minimalist's way of travel
Most commonly asked question- What is the most important thing I learned from my travels?
Imagine taking a year to just focus on yourself, spending every penny you've ever earned on yourself, not to become a travel influencer or to write a book, or to add a CV point, just for the joy of it. It is unfathomable what that can do to your personality.
Of everything I learned, the one thing that stuck around is I found my voice.
Frequently Asked Questions
Q. Who funds your travels?
I do. 100% of it.
The first year of my full time travel (starting Oct 2016), was completely on my savings where I made no money (nor had any intention to). A few months after that, I lived on personal debt (A fellow traveler had booked my return flight from Brazil and refused to take back money until I started making some). A few months in, I started taking up odd-jobs to make money on the road. This is one of the reason I stuck to Asia (predominantly India) as I was just about making ends meet.
Q. Do you always travel Solo?
Almost always.
I do travel by myself however, as a solo traveler it's far easier for me to tag along with other people. So, occasionally I tag along with fellow traveler(s). But it's often for the next place or a trek. The longest I have ever had company on the road since 2016 is about 9 days. This was in Ecuador in 2017 where I hiked with a group of friends from my hostel and after the 5 day hike, a friend from the group continued traveling with me to the next place. We parted ways after that as I was continuing north to Colombia and he was heading south to return to his home country.
P.S: As an Indian, my travel plans often depend on my Visa situation which can often mean a faster pace compared to other travelers.
Q. Do you not miss (romantic) companionship?
Once in a while.
Occasionally, I do miss companionship like when I don't feel safe or would like someone else to share decision-making burden with. I'd say it's usually once a month when I'm PMSing. But more often than not, I'm very content in my company. I enjoy reading, writing, painting, crocheting, and a lot of these hobbies thrive in solitude and some even demand it. Having lived and travelled by myself for years, I have gotten used to the luxury of not having to put up with anyone in my physical or mental space. For me to give up on that, it would take someone incredible and because my happiness is not hinged to finding companionship, I don't prioritise dating in my life.
Q. Does it not get boring out there?
It does, faster than I could have guessed.
After a few months of traveling full-time, my enthusiasm to see a new waterfall or to take a new hike had kind of dwindled. That's when I paused and volunteered at a place for two weeks. Whatever we do day after day ends up becoming monotonous even a life of adventure.
This is why it's important to find what brings meaning to our lives. Traveling with purpose is bound to keep an individual too busy to get bored.