Annapurna base camp trek
Hiking in the Himalayas esp. Annapurna base camp or Everest base camp, in the thick of winters, may not be a very wise idea especially if you have never hiked in the snow before.
If you do want to do this and there's nothing stopping you from it then go for it and I hope this post helps you in the process.
Permits:
First things first, everyone needs an ACAP and TIMS permit to enter the Annapurna range be it for Annapurna base camp or Poon hill trek. Both are located in the same range.
Cost: For SAARC nations it's ACAP – NPR 1000 and TIMS – NPR 600. For other country nationals, it's ACAP – NPR 3000 and TIMS – NPR 2000.
Where: The permit can be made easily at the immigration office in Pokhara. It took less than 30 minutes in total.
Purpose: The money is used to maintain the trail and help some local organizations. From a travelers point of view, this is the only way they know how many people are on the trail and in case anything goes wrong, it's critical information to have.
Is it Checked: Yes. TIMS was checked right at the entrance and ACAP was checked around midday on Day 2. TIMS can be made at the spot for the same price though if you have your pictures. ACAP costs twice as much money to make on the road.
Tip: I entered a large window as my trekking dates as I was not sure where all I would be hiking. It was not a problem as I still entered within the date range everywhere.
Annapurna base camp trek cost:
Permits: NPR 1600
Poon Hill entrance: NPR 100
Buses to and from Nayapul: NPR 275
Others: The cost of stay and food keeps increasing as we go higher up as everything after Bamboo is carried by porters. I spent on an average NPR 600 per day which is less than what I spent in Pokhara.
Stay until Upper Sinuwa can be bargained for free if you eat at their place.
Note: As one goes higher up on the trek, everything starts costing like charging, hot shower, wifi. I didn't pay for any of it. I carried by power bank and took shower only twice in 9 days whenever there was hot water for free (Upper Sinuwa and Ghorepani).
Gear advises:
Thermals: My plans to visit Nepal cemented in Varanasi which is not the best place to do gear shopping, so I purchased Jockey's thermals. My regular travel gear has jockey's top and Quechua's bottoms. These two are not great either but I can use the bottom as leggings if it gets too hot to wear two layers.
P.S: I purchased men's top as the jockey's women thermals do not come in full sleeve and has a neckline so deep that it makes me question the entire intent of this thermal top.
Trekking pants: I bought one in Pokhara but it's not good quality. The trousers looked like shit just after a week of use but it has multiple pockets. Multiple pockets help you keep essentials handy so one doesn't have to take the backpack off shoulder's to access snacks or phone/ camera. 
Super down jacket: I did not have a down jacket and had no intention of buying one so I carried an extra fleece, and my warm jacket that doubles as rain jacket. I was never cold on my torso area.
Rain jacket: I thought I had packed one but turned out I missed packing it and it was lying on my hostel dorm floor. I would say it's essential as we were stuck in rain on one day and it snowed every now and then. Although snow is not so much of a concern as one can just brush it off clothes and it doesn't drench anything.
Gloves: Two pair of gloves would be ideal. One thin layer and one heavy one (either woollen mittens or ski gloves). I went with only woollen mittens and I was cold. There were multiple occasions when I could barely use my hands as the blood flow had reduced marginally. Also, I constantly took support of snowy rocks while walking which drenched my gloves. At Annapurna base camp, I woke up to frozen mittens. 
Socks: As many as possible. I carried 7 pairs and had to reuse multiple times. At the end of each day, the socks end up being humid and the three days we were walking in snow, it was completely drenched and except the bonfire, there barely is any opportunity to dry them. You don't want to be sleeping in wet socks. I used to put on two pair of socks while sleeping but if one carries a woollen pair of socks then that wouldn't be necessary. I was trying to complete the trek with minimal new things to purchase.
Hiking shoes:

 

Get one with a good grip. I hiked with shoes

 I 

had already left at my parent's place to turn into souvenir but I was not stopping at any place to buy a good and affordable pair so I decided to take my shoes on one last adventure. While the sole was in good shape, the insole was not and I faced issues because of it on day 5 when we walked the longest. My feet hurt really bad on the point where the insole was non-existent.
Crampons: Do not underestimate the power of crampons. I did not know about it. I decided to rent it after walking a few stretches in ice and nearly falling. Unfortunately, there were no crampons to rent post-Himalaya. so I had to make do with local advise which was to put on socks over my shoes. I found the biggest pair of socks I could in my bag and put them on. I did a shabby job but my friend helped me put it on properly and I was confident of hiking that day just by looking at my feet. While I don't think it helped much in fresh snow but could see a clear difference when I was walking in ice and starting to melt snow. Although I did fall like 300 times but nothing too scary.
Super Down Sleeping bag: I don't travel with a tent or a sleeping bag. I didn't want to buy one so rented it at NPR 100 per day. It was a good one and I'm glad I had it. Even though most places had an extra blanket but changing sides lets in the cold which can be very uncomfortable. I saw locals were using sleeping bags as well.
Trekking poles: I have never before used trekking poles and I did not see the need for it on this one but it can be useful as it allows to get a good footing. I used a bamboo stick with a slant cut at the base to get a good grip. My friend Fritz found it for me.
Beanie: I carried only one beanie that covered my ears completely. On one day it was a little drenched so maybe one more would have been nice but not essential.
Fleece full face mask: I did not even know such a thing existed, I always saw that thing as an alternate scarf. I could not feel my lips the day we walked through a blizzard. I had lost sensitivity on my fingers so my friends just adjusted my scarf to make sure my neck was covered. I keep calling them friends but they really were two angels (corny but true).
Moisturizer: I still had dry skin all over my face but maybe it would have been worse without it. I had wet wipes but it never occurred to me to use it while hiking.
Sunscreen: I used it only on two days but I'm not a good person to set examples on skin care anyway. Take care of your skin, too much sun causes cancer.
Water purifying tablets: It's very easily available in Pokhara. I'm not sure if it helps all that much but it did help psychologically. There are water taps in every guest's house and multiple streams along the way which can be used to refill the water bottles. The tap at Annapurna base camp was inside the kitchen, I requested to refill my bottle there and they let me.
Power bank: Phone charging is chargeable starting day 2 so I put my phone on airplane mode and used it only to see maps or take pictures. I charged my phone at Ghorepani where charging was free.
Carry as much food as possible as everything on the trail is super expensive. I  carried enough food so I only ate one warm meal a day.
My usual food
Breakfast:

Instant noodles (I carried noodle so only purchased hot water on the trail)

a spoonful of mixed nuts (almonds, cashed, and pistachio)
Snacking on the trail:

1 protein bar for each day

1 small packet of cookies (10 pieces)
Dinner:

Mostly dal bhaat, later I started trying veg fried rice, and noodles.
Honestly, anything after a day of hiking tastes yum. Trail food was some of the yummiest food I had in Nepal.
My route: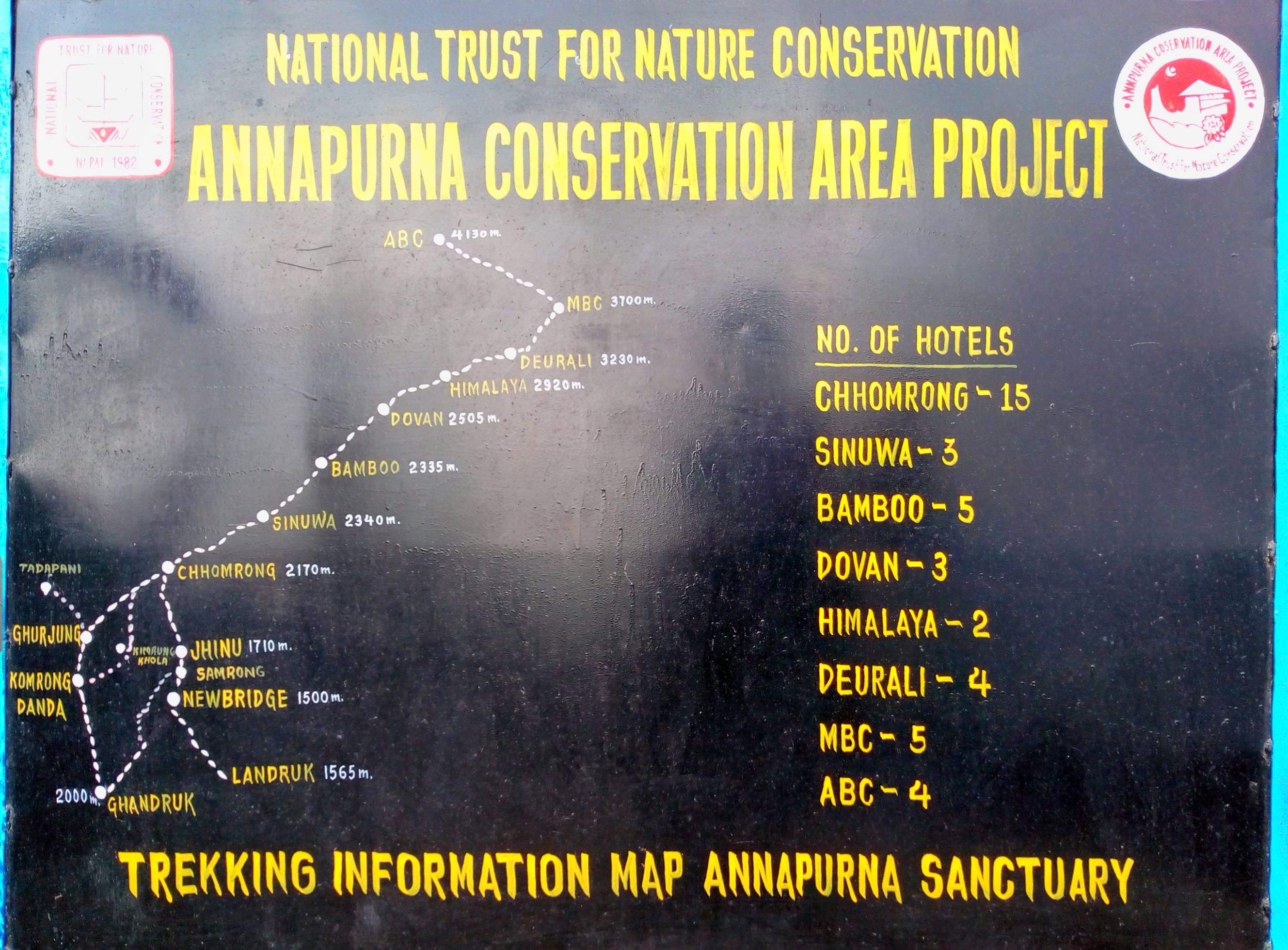 Upper Sinuwa – Bamboo (It started raining and snowing heavily so we stayed back here for the night)
Duerali – Annapurna base camp
Annapurna base camp – Upper Sinuwa
Ghorepani – Poon Hill – Hile
From Hile I hitched a ride on a scooty to Nayapul
I did not meet anyone on Poon Hill trek going this way however I like the terrain this way. It was a mix of uphill and downhill until Ghorepani, mostly uphill but there were few steps however the last stretch from Ghorepani to Hile was only a series of steps, very small stretch without steps, I would have hated going uphill from here.
Annapurna base camp is a beautiful trek and so is Poon Hill but the strength of nature should never be underestimated. People have died on the trek due to sudden change of weather and getting stuck.
My Recommendation:
I hate saying it because I hate hearing it but on this trek, I would say, 'Try to go with company'. The guys I tagged along with were not only super fun to be around but they also helped me immensely both mentally and physically. Whenever there was a difficult stretch they waited for me to come and explain how I could complete it without hurting myself, when I wanted to give up, they encouraged me to continue for another 20 minutes and see if I felt the same.
There were at least two definite times when I wanted to give up.
it's not as difficult to meet fellow trekkers as it seems. While in the beginning, I didn't see that many people (I saw no one), as you get closer to ABC, the possibility of meeting people gets higher as the number of guest houses keeps reducing. Most people start hiking between 7:30 – 8:30 a.m.
In spite of saying this, I would add/ advise, just like life, choose to be by yourself than choosing a company you don't enjoy.
My Experience:
Day 01:
This was probably the least scenic but most thought-provoking part of the trek for me. The villages enroute are real villages and don't exist only for tourists. The route is open with a lot of locals along the way which helped me be comfortable on the track. I could think about things I wanted to without fearing for my safety or worrying about losing the way. I stopped at Ghandruk and stayed in this beautiful homestay called 'Roshan and roshani'.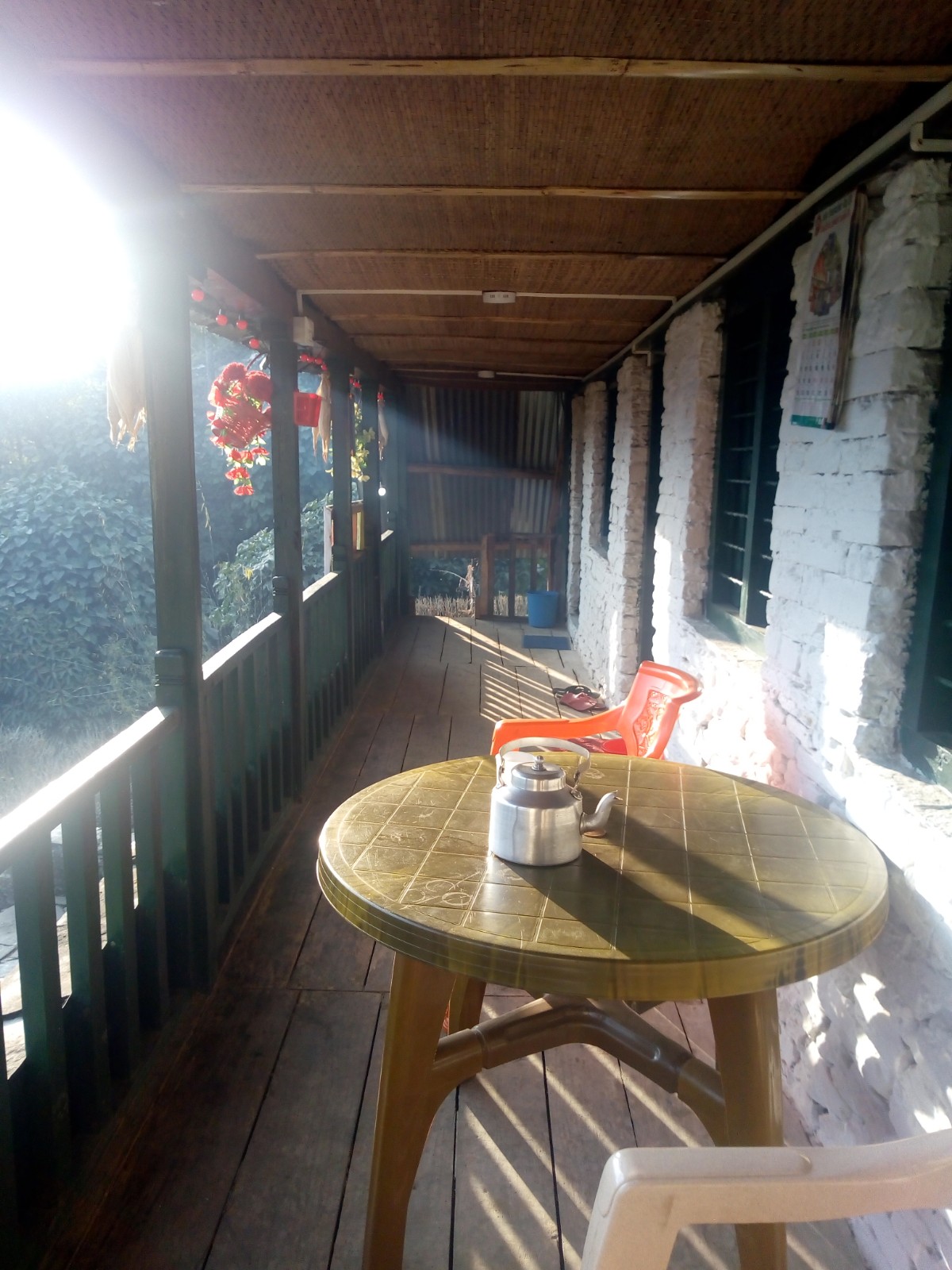 Day 02:
There were never-ending series of steps on this day and I just wanted to get done with it. I took multiple snack breaks. I realized that I wasn't thinking much about anything other than just reaching Bamboo on this day.
Somewhere around midday, I saw two guys in Chhomrong going in my direction. I asked them if they were headed for Annapurna base camp and knowing they were, I sought their permission to tag along, they were okay with the idea and there began my journey with these two guys – Nathan and Fritz, who I believe came to my life to compensate for the not-so-nice people I met last year. I had somewhere started questioning everyone's intent and they made me throw it out the window.
We ended up stopping at upper Sinuwa that day.
If you even slightly doubt of getting altitude sickness, this place would be a good place to take medication.
To read more about altitude sickness I recommend this post by fellow travelers who are well versed in hiking and have successfully completed many treks around the world.
Day 03:
We started pretty late this day and had only reached Bamboo when it started pouring. We were not keen on hiking in the rain as we didn't have the proper gear to keep us dry and we were certain we wouldn't be able to dry anything later.
Also, Nathan's knee was not doing well so we took this whole thing as a sign to catch a break.
To keep us entertained we tried some local psychedelic honey but it didn't work.
Day 04:
To make up for the lost time, we started really early and it looked like a winter wonderland in the beginning with snow here and there but soon it became winter nightmare for me when I reached a stretch where I could find a holding for my one foot and the other foot started slipping as well. There was a rock on one side with snow all over it and valley on the other. I literally wanted to sit and cry here. Nathan did help me but I still wanted to cry for having come. With each step, I kept screaming 'Mummy, mummy, mummy, aaaainnnnhunnnhunnnn'. Essentially, sounds to keep me from crying.
We stopped at Duerali on this day.
Day 05:
We were only two villages from ABC but it had snowed last night and it felt really weird to start trekking this day. I was still traumatized from last day and I saw no one else start the hike.
Just when we were starting, a guide asked me to come back if I didn't feel like continuing. there was a concern in his voice. He also told me that some people at ABC had requested for a chopper to get back. I was already feeling strange about continuing.
We had barely walked for 5 minutes when all the snow disappointed me so much. I was not prepared for any of it. I didn't have crampons, my gloves were too big for me. I have never before hiked in the snow, in fact, had seen snowfall all of two times before this.
I told the guys, 'I don't think I want to continue'. Nathan asked if I wanted to walk another 20 minutes and decide after that. That sounded fair so I continued but after 20 minutes the trail didn't get better, I just realized I was in no position to go back on that route alone. There were some uphills that I couldn't go down on without help. So, I continued walking. At least, I had these two amazing friends with me who made sure I was not bored.
We reached MBC, took a short break. It had started snowing and I assumed we were going to stop for longer but Nathan and Fritz were ready to start again soon and I was scared of the idea of venturing out. We did start as the snowfall didn't seem to stop. I didn't want to be stuck here alone. As we were walking the snowfall turned into a blizzard and I could barely see even Fritz's footsteps. Somewhere in between we got my phone on power bank, waited for it to turn on and see if we were on the right track. We were. We were past midway.
I couldn't think much. I just wanted to reach a place I could warm my hands. I had already started thinking about my life without some toes and fingers.
We reached ABC finally after it felt like the three of us were going to die a tragic death. There was a fire in the kitchen and I immediately went to use the heat to get some senses back on my hands and feet.
It was around -12 degrees during the day.
I was ecstatic we had made it. Now there was no other way but going back. It was going to be okay.
Day 06:
We woke up early to see the sunrise on the Himalayas and had sections of clear skies. The golden light on the snow clad mountains was everything I had imagined seeing there.
We didn't spend too much time at the top and started our descend as there were a lot of people on top which meant if there were too many people ahead of us, the snow would turn into ice making it all the more difficult for us.
There was one group ahead of us. We had barely walked for 2 minutes when I fell on my bum, I laughed so much cause this is what I was trying to avoid and it finally happened. I was not afraid of falling anymore at least not when there was no valley on one side. I continued most of my hike on my bum at times voluntarily and most times non-voluntarily.
We barely took any breaks this day and stopped directly at Upper Sinuwa.
Day 07:
The day started with downhill but at Chhomrong, we had to take never-ending series of steps which made me super slow.
We parted ways around where we had met and at around the same time. Nathan and Fritz had come from Poon hill and I was headed there.
Trekking filled me with a lot of positivity and it made me believe that now I could do any hike (as long as it didn't have too much ice).
I was targeting to reach Tadopani but this day but I reached Chulle at around 3:40 p.m. and decided to stop as Tadopani was another 1.5 hours and through a forest which I was not comfortable being in later in the evening.
The room in Chulle was one of my favorites, I could see stars through my window, and sunrise right outside. The room was basic but comfortable.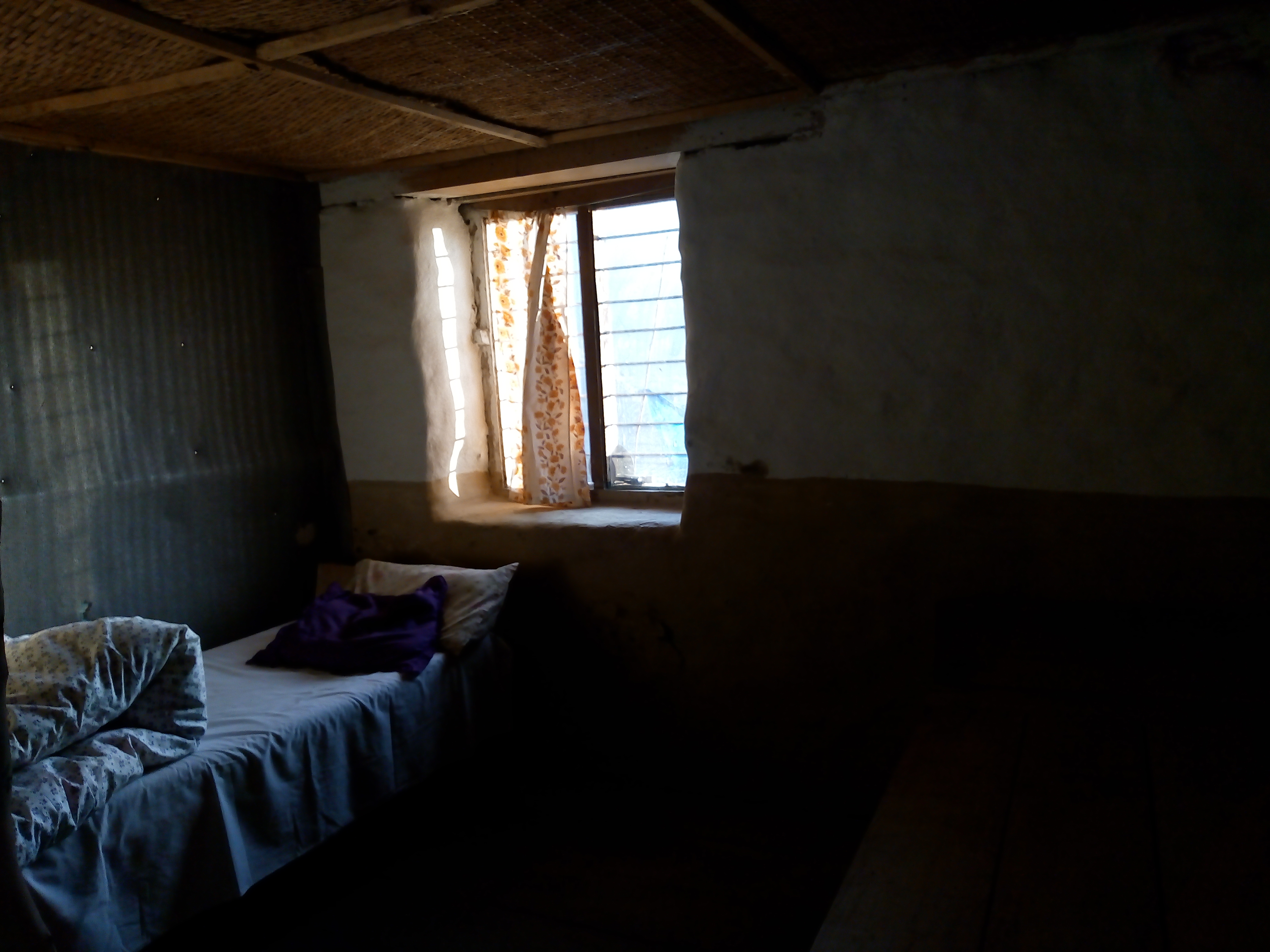 Day 8:
I was targeting to reach Ghorepani this day and I did. The route was beautiful, some sections had snow but not a scary amount. I reached Ghorepani at around 3 p.m. took a room in a quieter part of the place. I considered going there for sunset but I was told, it's nothing special so I decided to rest and go for sunrise.
This hotel already felt like I was close to town, I could charge my phone at no extra cost and there was a great hot shower.
Day 09:
I started in the dark to see the sunrise at Poon Hill. Very soon, I started seeing more and more people. I made it in time to see the sunrise and it was perfect. the skies were clear and sunrise was perfect.
I started my descent at around 8 a.m., picked my backpack from the hotel and started walking hoping to reach Pokhara that day. I reached Ulleri at around midday and that's where I was hoping to get a vehicle from to Pokhara. There was only one other person waiting for passengers to Pokhara and the locals seemed really rude and mean. They were making fun of the fact that there was no one else and they quoted a hideous amount to take me to Pokhara. Almost double of what my friends had paid to reach from Pokhara.
I decided to continue walking as I didn't feel like spending a minute longer in their company. I was too ambitious though with reaching Nayapul the same day. My legs started hurting real bad after a while.
I managed to drag myself to Hile from where I hoped to find another jeep. As soon as i reached the road, I was happy about not having to take steps, and then I found a ride. He was going until Nayapul so I just hitched a ride.
From Nayapul, I found a tourist bus that was headed to Pokhara. I was in Pokhara by 4 p.m.
Even though I'm really glad I did it but I would not go for a hike like this alone again until I remember the trek to Annapurna Base Camp as vividly as I do now.
How was your experience of being in the snow the first time?