Over the last 6 years that I have been traveling full-time (barring a year in Mumbai), I have stayed in hundreds of hostels around the world. Not only because they are affordable and I am always on a tight budget (living on my savings most times), it's because I love it. I love the experience of staying in good hostels with healthy atmosphere to meet fellow travellers, cook together, team up for day outs, and talk to the owners about their favorite places.
My travels have not been void of sour hostel experiences from being asked to pay a fine of $30 for having left a soiled bowl in the sink before running out to join a tour at 5 am to finding a stadium in the place of the hostel I had booked. But over the years I have been able to minimize such experiences through a much more experienced way of looking at hostel booking process.
In the last six years, I have been part of the hostel industry not just as a guest but I have also volunteered in various hostels from reception duty to being in the in-house artist. In 2017, I had also worked (as a freelancer) with one of the biggest hostel chains in India to set up a new property in Kodaikanal. A process that had taken 7 months of sweat, blood, and a lot of courage. It was in those seven months that I also got to see the ugly side of hospitality (that's for another day though).
Here I am enlisting my tips for choosing a hostel especially as woman who travels by herself –
Platforms for Hostel Booking
Website to Book Hostels
The platforms I use in most countries for booking hostels are –
Booking.com
Hosteworld.com
I have seen varying prices on both so I can't say one is better than the other. I almost always compare prices on both and pick the cheaper option.
Walk-in
During my initial days (years) of travel which was with very little money, I would often use these websites to get a sense of the prices in a new town and then just walk around to find a hostel. I almost always found a room in and around central areas to match that price.
I don't practice this anymore because as an online customer you do have some rights and if things don't go well later at the hostel, you can at least leave them a review that would help fellow travellers.
Kind of Accommodation
Female Only Dorms
I haven't seen this option in all the countries I have visited but it does commonly exist in some of the countries like India and Sri Lanka. Occasionally it's priced higher than a mixed dorm (A common trend in India) but in Sri Lanka, in most hostels, it was at the same price. I choose this option because often it's less occupied than a mixed dorm (many times I have been the only occupant), even when it's busy, I love meeting other women travellers (often traveling solo).
Even though I generally feel safe in the company of other backpackers (it feels like a familiar tribe), there's a certain calm (in chaos) about being surrounded by women (travellers). I don't have to second guess sleeping in my sports bra among many other things.
Note: Do take a look at the bed pictures, some dormitories have three tier bunk beds that just feels like tree climbing. Combine it with your periods and late night loo visit, it's just cruel. 
Price
Sort Search by Price and Evaluate the Value
I have built a muscle memory to sort everything by price (lowest first), I may not choose the cheapest option anymore but I do like the order that it instantly brings to search results.
What I do now is to see what value a hostel is offering for my money. Often there are hidden costs/additional costs that one may have to incur at certain properties like some hostels do not include toilet paper (very rare but I did experience it in Latin America a few times); some camping places do not offer drinking water; some charge extra money for things like a second blanket, luggage storage (even for a few hours), towel etc.; some do not have wifi and if I need to work that would mean spending additional money to sit in a cafe or a co-working space. These additional costs may look different in different countries based on local challenges like in Sri Lanka, there's often a fuel crisis in summers which leads to long power cuts. If the hostel does not have power backup and one needs to work it would mean spending money in cafe or co-working spaces again.
I do consider all of these when I make a decision on my hostel stay. Spending a few additional dollars on stay can save you money in different ways.
Tip: If you need some quiet time, just go for a dorm with fewer beds, it's often emptier. I have also had the whole dorm to myself multiple times while the dorm with more beds (cheaper by a dollar or two) were nearly full.
Long Stay discounts
As a digital nomad, I often stay in places for 1-4 weeks. In the beginning I was hesitant to seek discount for a week long stay because it didn't seem long enough to me but in recent months, I have come to realize, that a week is a good period that people would like your business for. Come to think of it, as a full-time employee the entire length of my trip used to be very often a week.
I would recommend, if you're staying at a place longer than 3 days, there's no harm asking for a discount. I just ask, 'I was thinking of staying longer, maybe a week for now. Do you offer any discounts for long stays?'.
So, I usually book my stays online for 1-2 days only. Even if they don't offer discounts, it makes me feel more in control of the situation in case I didn't like the guest house/hostel, staff, or the neighbourhood, I could just leave the same day or at the end of my booking with little loss.
Note: The only exception I make to this rule is when I get a really good place on some special offer, In that case I make a booking for the entire duration. 
Location
Use 'Show on map' feature
Location is key to safety for women. While men also need to consider staying away from shady neighbourhoods, it's often to avoid theft. For women, the risk to personal safety is much higher and unfortunately, this often is not limited to certain neighbourhoods. It's often to do with poor lighting, proximity from central busy areas, general people movement etc. While some of it is difficult to gauge through the map feature alone, one can easily look through the density of hostels in the neighbourhoods and make a fair guess on the safety situation.
I use 'Show on Map' feature on booking.com to get an idea of where most hostels are located and then I use it on individual properties that I'm interested to book. While properties do have listed 'distance from center' it's often (I want to write 'Always' but I hear it's 'extreme') incorrect.
As a solo female traveler, I prefer to stay in central areas even though I love everything about quiet properties. I take these distant properties only if it's still a walkable distance from the center. Central areas often have a higher density of cafes and restaurants, which means people are out and about until later int eh evening. That itself gives me a higher sense of safety.
The few times that I do have company of another traveler, I pick places that are quiet and away from the 'buzz'.
Reviews
Check Reviews (Sort by Worst Rating)
This is crucial in my decision making process. But as someone who's worked in hospitality industry and seen how big names have the tools to manipulate these ratings, I don't just look at the overall ratings of a place. If I shortlist a place, I sort the review by 'Lowest Scores'.
I want to know how bad can the bad get (just what I seek in people too).
View Owner's Response to Bad Reviews
This is a decision maker for me. I like to know how the owners take feedback. In these responses one can quite easily understand the vibe and mentality of the owners.
Like this one time I left a bad review of a hostel for multiple reasons and included that it was not a safe neighbourhood and how I felt threatened by local men who were sitting in a group and passed a comment each time I crossed. The owner responded to this with (not verbatim), 'who asked you to go out in the evening'. This was in an already patriarchal state in India. If I was to read that response while picking a hostel, there's no way I would have picked that one. You can deduce a lot from that one statement.
Additional Facilities/Features
Breakfast
I know people who don't take breakfast but I'm just not friends with them (kidding, keep your enemies closer, remember?). I am big on breakfast, and I'm not a nice person to be around in the morning before I have had my breakfast.
So, naturally, this is a big decision maker for me. However, I understand the industry is aware of our weaknesses and would often try to sell two slices of (bad) bread with butter or jam as breakfast. So, I need to do my research. Kind backpackers often include review of breakfast in the overall review and I look it up there. I choose a hostel with breakfast only if the breakfast is good enough (read has variety), or the hostel provides enough value even without it. Some hostels have a cafe/kitchen inside and would offer breakfast at an additional cost, I have almost never found it of comparable value with cafes nearby.
In Latin America, I often picked hostels with breakfast because of the limited street food options but once I got the hang of cooking and eating healthier on the road, i started traveling with peanut butter, jelly, bananas, and muesli. That way I just had to get bread or yogurt for a decent breakfast.
Note: In India, a good breakfast in often just round the corner. So, I rarely pick hostels with breakfast included here.
Cycle/Surf Board
Some hostels offer a free board rental or cheaper than market prices, that can be huge saver. In Auroville (the place I have come to revisit often), some guest houses offer complementary cycles for use during the stay. This comes in very handy as the place is best explored on a bicycle.
It's a good ideal to look up for such additional benefits that come with a hostel if you're going to rent is separately anyway. If it's not something you would rent otherwise, then it wouldn't make a difference to your picking the hostel.
Sports Utilities like Gym/Swimming Pool/Ping-Pong Table
A hostel I stayed in in Jaffna, Sri Lanka, had free access to their gym. It was a large gym, professionally maintained by the same owner as that of the hostel. A few months later, a cheap room in an expensive resort got me access to their well maintained swimming pool. As a full-time traveler I often don't have easy access to their facilities which is why it becomes an important factor for me to choose a hostel.
If I go back to these places, I would definitely pick them again, for the value they brought. These were not the add-ons I was actively looking for, but the presence of it makes a solid difference.
Free Yoga Classes
In places popular for Yoga, some hostels offer either free yoga classes or by-donation classes. If you're not interested in taking regular classes and just want to dabble your feet in the practice, it's a great option to try out. I had experienced this in Rishikesh, which is the Yoga capital of the world apparently. Almost everyone I met seemed to be taking their teacher training course, I wasn't keen but did want to practice every once in a while.
Because the hostel had space for it, someone would either conduct by-donation class or one of the fresh graduates would take a class to build confidence.
Complementary tea/coffee/meals
Often these benefits are very culturally driven, so it's a good idea to have a sense of what could be on offer (this can be gauged via reviews of multiple places). For example, one of my hostel in Colombia offered a pot of coffee all day.
A hostel in Rishikesh, India had free tea included everyday at 5 pm. The same hostel offered free dinner to all guests every Tuesday. This was a great way to meet fellow travellers and experience the warmth of an almost home-made meal while on the road. The meal was special not because it was free or a big social event, it was just the kindness you witnessed in the room, and the sincere generosity of the owners that made it special. Rishikesh is a place with many long-term travellers and such simple things go a long way. It was quite common for guests to stay a few additional days to make it to the Tuesday dinner.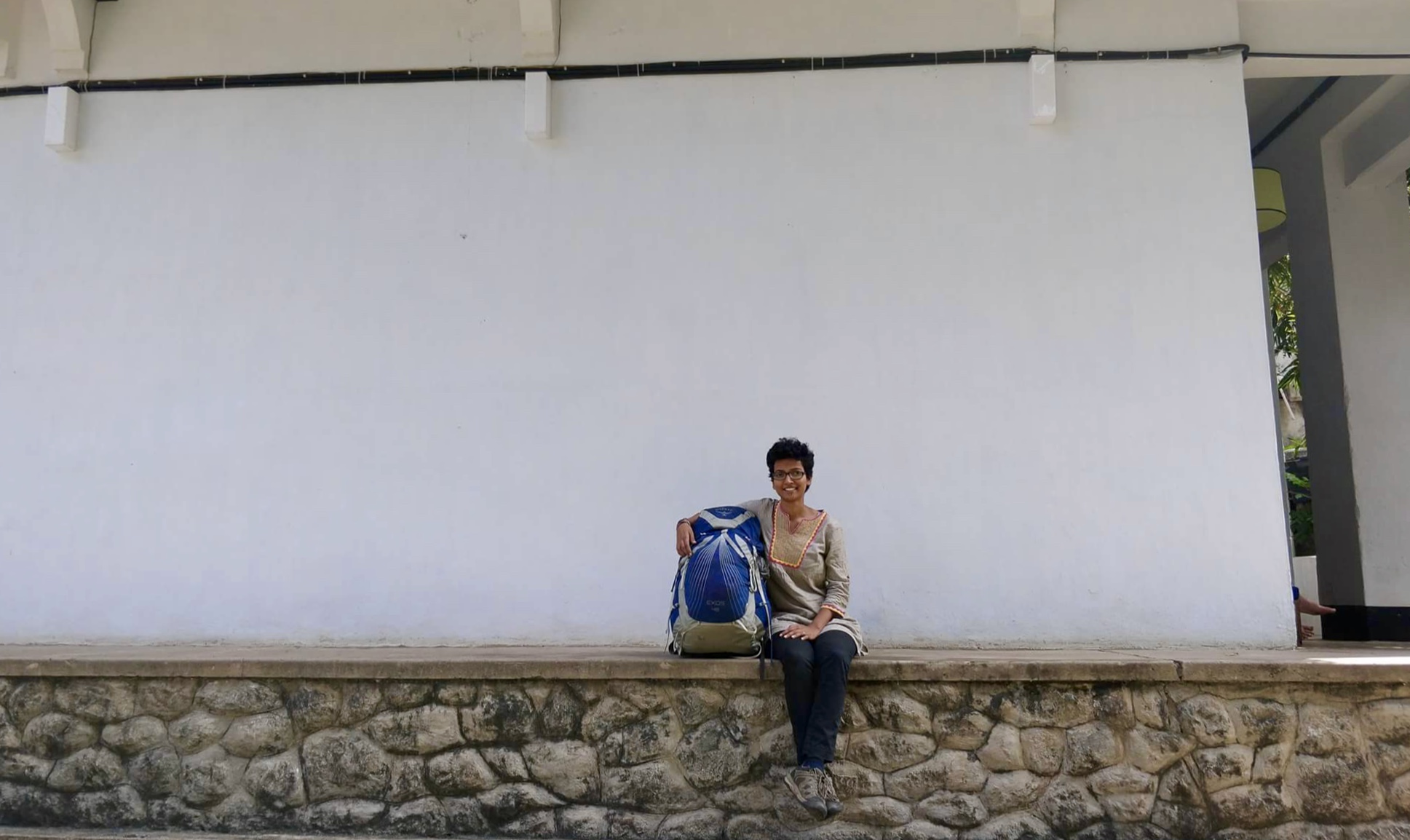 These are all the things that I look for when choosing a hostel, mindful of my personal safety as the primary criterion. Have you developed any special ways of reading between lines, or looking for some special information in choosing a hostel? Anything you would like to share with fellow women travelers?