Kodaikanal holds a special place in my heart from the time I got to spend 7 beautiful months here in 2018. As much as I love the weather, landscapes, and heritage of the place, it wouldn't be the same without knowing the community that I had the great fortune of knowing during my travels.
Kodaikanal is an Indian hill station located at an altitude of over 2130m, in the southern state of Tamil Nadu. Among the youngsters, it might be known for its psychedelic mushrooms but among the more seasoned travelers, it's popular for its rich history, unique flora and fauna, and mesmerizing landscapes.
In Tamil, Kanal means dense forest and Kodi means creeper or the end. The meaning of Kodaikanal hasn't been agreed upon, it could either mean forest at the end or forest of creepers.
Also read: Faces of kodaikanal
BRIEF HISTORY OF KODAIKANAL
Prehistoric people
Before the onset of the current civilization, Kodaikanal was home to prehistoric people for thousands of years. They made their homes of flat stone slabs known as dolmens. These dolmens were generally 8 ft by 3 ft and 3.5 ft high. Some of these dolmens can be seen today in the outskirts of Kodaikanal, the nearest one being in Perumal malai. The dolmens where they were buried were found with copper and bronze ornaments.
Paliyan and Puliyan tribe
Much later the Palani hills were inhabited by the Paliyan and Puliyan tribes. The Paliyans were tree-dwellers who lived in caves under rocks or on trees. Puliyans' traditions were more reminiscent of the plains. They worshipped their own Gods and Goddesses.
Early Settlers
In the quest to find an alternate destination for summers seeking respite from widespread Malaria in the plains, Rev. HS Taylor and Rev. CP Mussey explored the upper area of Palani hills (present-day Kodaikanal) in 1945.  Six families packed in two houses built around the present-day lake moved.
Kodaikanal lake (which was earlier a marshy area) is where the earliest houses were built. Old houses were built of local material like granite, mud, limestone, and sandstone. They were generally single-storied and had gardens. Many of the heritage buildings are now owned by Kodaikanal International school and multiple churches.
A large number of private properties changed hands and only a few managed to live on in their original glory. They do make for beautiful heritage sites now.
PLACES TO VISIT
All the below-mentioned places are very crowded over weekends and getting stuck in traffic jams is quite usual. Anytime during April to mid-June is super busy as well (owing to school holidays).
1. Kodaikanal Lake
Kodaikanal lake is by far the biggest attraction of Kodaikanal but as opposed to popular belief, this is not a natural lake. It used to be a weedy swamp when Sir Vere Levinge (1819-1885), retired collector of Madura, on a suggestion from Ciceron (from Savoy, France), decided to put a bund at the end of the swamp to block water.
Sir Levinge was the one to introduce fishes and the first boat in the lake too, name lily.
It amazes me when I look at the lake and I'm reminded that Indians were earlier not allowed to row on the lake. All the boats were imported so Indians couldn't easily acquire boats either.
'The starfish-shaped lake's perimeter is about 5 km and once you cross the busy section that's thronged by tourists, the lake is calm and beautiful. A walk or bike ride along the perimeter of the lake is recommended.
2. Dolmens
Some dolmens can be seen around Perumal peak and Palamalai.
The remains unearthed from some dolmens and models of dolmens can be seen in Shenbeganur museum.
3. Coaker's walk
1 km stretch along the edge of a slope is pedestrian-only. It allows for beautiful views of the hills and the plains. The view is dependent on the weather though. Mist starts to set in by late afternoon.
4. Observatory
The Kodaikanal Solar Observatory is one fo the oldest solar observatories in the world.
While most part of the observatory is not open to the public, the museum is. The Solar observatory is perched on a hilltop on observatory road with beautiful views of the town from within the premise itself.
On Jan 5th, 1909, John Evershed made the discovery of the phenomenon of radial motion in sunspots, which is now termed as 'Evershed effect'.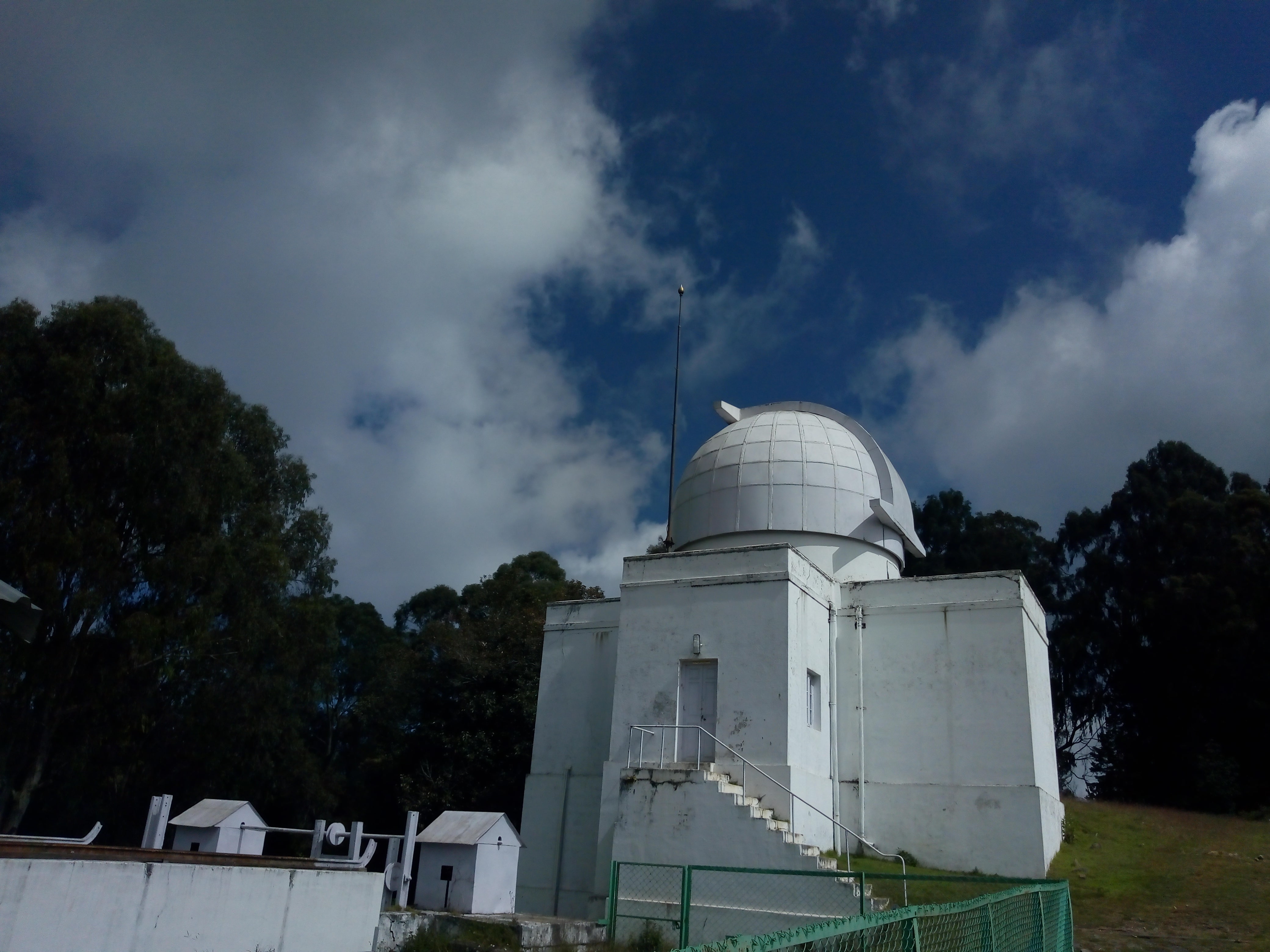 5. Upper Lake view
Gives a panoramic view of the lake that's shaped like a starfish. Apparently, the sunrise from here is a good view but I never got around to seeing the sunrise from there.
6. Pillar Rocks
Pillar rocks is the name given to three granite rocks, each over 400 ft tall.
Large parts of the viewpoint are cordoned off owing to accidents in the past.
Yep, that's all I saw, the mist.
7. Indian Club
Indians were not allowed to become members of the English Club (today's Kodaikanal Club), which led to Mr. T V Seshagiri Iyer starting the Indian Club in 1915. He was a leading advocate from Madras. Indian Club stands as a near-abandoned building on PT road.
The last time I walked into the building in 2018, some local men were playing cards inside in low light.
NEIGHBOURING VILLAGES FROM KODAIKANAL (IDEAL DAY TRIPS)
All the below villages are known to be older than Kodaikanal itself. The locals from these villages often come to Kodai on Sunday to either sell their produce or buy from the local market which happens every Sunday on PT Road.
1. Vattakanal (Dolphin's Nose and Echo Point)
Distance: 6 km
Travel time: 15 min by Cab, 45 min walk
Cost: Rs. 400 (in a cab)
Vattakanal is a small village around 5-6 km from Kodaikanal center. A 45-minute hike through parts of the forest and occasional glimpses of the valley on a clear day.
Vattakanal is the name of the area and Dolphin nose and Echo Point are viewpoints on a small hike there. The beginning of this small hike can be reached with a taxi or via a 45 min walk from town.
The local story is that the Mahabaratha's game of dice was played at Dolphin's nose. The echo point is just a little ahead of Dolphin's nose.
Tip: Don't miss the sunrise while you're Vattakanal. It's majestic.
2. Poombarai
Distance: 18 km
Travel time: 1 hour by Bus
Bus timings: Frequent buses from town
Cost: Rs. 30 (in public bus)
This is the nearest village from Kodaikanal and is absolutely stunning. With terraced farms, red-tiled rooftops old houses, and an ancient temple right at the beginning of the village. There are frequent buses to Poombarai from Kodaikanal's main bus stand.
3. Kookal
Distance: 30 km
Travel time: 1.5 hours by Bus
Bus timings: 8:30 am, 12:30 pm (Last return bus at 4:15 pm)
Cost: Rs. 40 (in public bus)
We can see the caves here where one of the first inhabitants of Palani hills – the Paliyan tribe used to live. I didn't get to see the caves as I barely had time to explore the village owing to public transport availability (rather non-availability). The village is beautiful with terraced farms, another lake around (without a dedicated sitting area but serene nevertheless).
I have been here multiple times and prefer to spend time by the lake.
4. Mannavanur
Distance: 35 km
Travel time: 2 hours by Bus
Bus timings: 9:30 am (Return bus – 4:35 pm, 7 pm)
Cost: ~Rs. 50 (in a public bus)
It's one of my favorite villages around. The first time I went chasing the sheep farm. All I wanted was a picture with a herd of sheep. Which I did manage to get and the beautiful Mannavanur lake was a complete bonus. The second time around, I tried my hands at kayaking with a friend and it was brilliant (He would like to disagree though).
Mannavanur is slowly picking popularity but the distance from Kodaikanal discourages people from visiting.
5. Poondi
Distance: 40 km
Travel time: 2.5 hours by Bus
Bus timings: 10:30 am (Return – 2:30 pm)
Cost: Rs. 60 (in a public bus)
Poondi is a few more kilometers ahead of Mannavanur. Has a beautiful lake and is yet to be taken over by tourists that seems to be happening with Mannavanur.
Tip: If you don't get a bus to or from Poondi, try Kavunji. That's a nearby village with slighly more buses
TREKKING/ HIKING AROUND KODAIKANAL
1. Vellagavi Village
Distance: 3.6 km (one way from Vattakanal)
Difficulty level: Medium
Time: 5-6 hours (1.5 of descending plus 3-4 hours of ascending)
Also known as Old Kodaikanal, Vellagavi is a little less than 4 km from the village of Vattakanal. But there's no road connecting it. To reach the village one must hike further down from Echo point and more painstakingly hike back up.
In the 17th and 18th centuries, some villagers in the plains moved here to flee the exploitation at the hands of Vijayanagar kings. As the population grew, so did health issues which sent people looking for safer places in upper hills. This other settlement came to be known as Shenbaganur.
The locals grow their own coffee and avocados. Don't miss out on the amazing Avocado shake in the cafe located at the entrance of the village (It had closed during the lockdown, hopefully, it would reopen).
2. Ganeshpuram waterfalls
A good section of the hike is through lemongrass shrubs which makes it look quite surreal. There's a waterfall there where one can swim but our guide told us there's a constant threat of bison and elephants there.
Note: Hiking in Ganeshpuram and most other places require prior permission from the Forest department and a guide is mandatory.
Other hikes around Kodaikanal:
Sl. No.

 

Trekking range
Distance, time
Difficulty
Sights of interest
1

Periyakulam – Adukkam – Kodaikanal

18 km on foot plus 14 km by bus, 7 hours

Very Difficult

Chezhungu river

2

Palni – Vilankombai reserve forest – Ganguvar Odai – Kodaikanal

16 km, 7 hours

Very Difficult

Glen falls, deciduous forest

3

Periyakulam – Kumbakarai – Shenbaganur – Kodaikanal

27 km, 7 hours

Difficult

Kumbakarai falls, old Coolie ghat path

4

Kumbakarai – Vellagavi – Kodaikanal

8 km, 5 hours

Difficult

Kumbakarai falls, Vellagavi village, view of plains

5

Marian Shola – Vandaravu

14 km, 4 hours

Difficult

Ibex peak

6

Berijam- Marian Shola

12 km, 3 hours

Moderate

Berijam lake view,

 

7

Vandaravu – Kilavarai – Kavunji

17 km, 6 hours

Moderate

pine forests, meadows

8

Marian Shola – Pulavachair – Kilavarai – Kavunji

20 km, 7-8 hours

Moderate

Shola, grassland, wattle and pine plantation, Vellaiyan Tuval (falls), trout fishing in stream

9

Berijam – Kavunji

12 km, 3 hours

Easy

Konalar river and trout fishing, pine plantation

10

Perumal Malai – Perumal peak

16 km (up and down)

 

Moderate

Manjalaar dam view, hola, view of upper and lower Palnis

11

Kavunji – Kukkal

12 km, 4 hours

Moderate

Kukkal caves

12

Kodaikanal – Berijam

23 km, 5 hours

Moderate

View of plains, moir point, Berijam lake
OTHER OFF-BEAT ACTIVITIES
1. Pottery tour by Potter's shed
Potter's shed is a quaint little store located on PT road, displaying pottery by their very talented potter who's been doing this for years. It is run by a trust and the proceeds go towards educating kids from underprivileged backgrounds.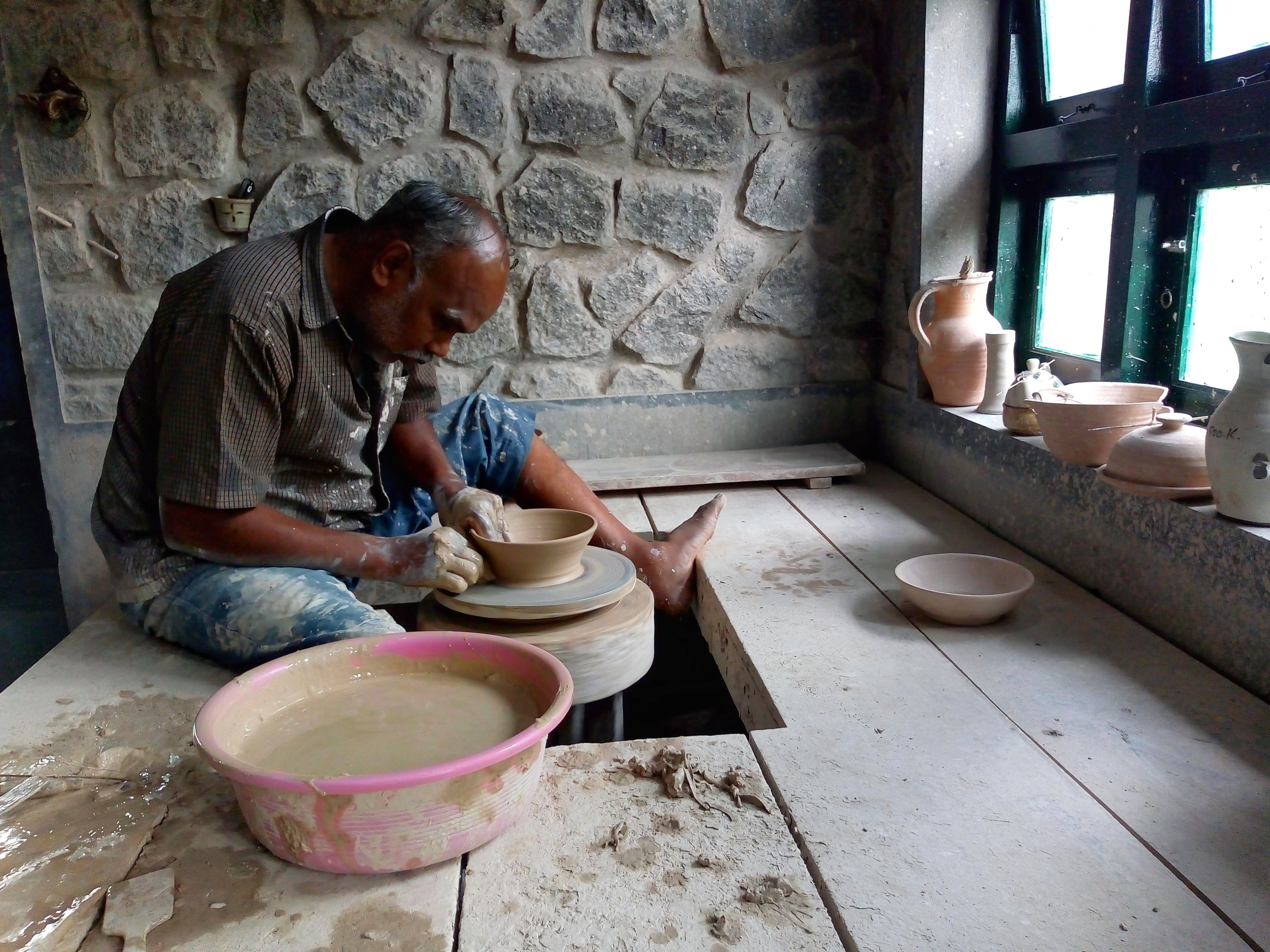 The workshop is located in a scenic area away from the hustle-bustle of the town.
From 2 – 4:30 p.m. organized on request
• Tour with hands-on experience – 700 per person
• Tour without hands-on experience (one hour) – 300 per person
2. Spend time at the KMU historic library
Timings: Wednesday and Saturday – 1100 hours to 1300 hours
Kodaikanal Missionary Union (KMU) was first started as an informal reading room.
Located inside the Kodaikanal International School premise, KMU owned library is open to everyone. Not only is it a great place to read up on the history of Kodaikanal or get your hands on the precious books with a collection of Kodaikanal's flora in sketch but also to meet interesting people from everywhere who have made Kodaikanal their home.
PLACES TO STAY IN KODAIKANAL
Camping
Budget Stays (Backpacker Hostels)
Greenlands Youth Hostel: I have spent months in Kodaikanal looking at properties and I can tell you one thing with surety, there's no other place in Kodaikanal or Vattakanal, with a view like the one this hostel has. During the day, there's the view of the valley and mist floating in, and in the night its city lights glistening in the far distance. They have dormitories as well private rooms and a kitchen in case you feel like being holed up in your room all day.
Trippr: Trippr is a hostel set in a peaceful setting away from the hill station busyness. They have four and eight-bed dorms with a beautiful garden. I quite enjoyed my evening walks around the area. Since I last visited, they have made a very practical workstation overlooking the hills.
Dostel: I only got to stay there for a day, so I can't write about the hostel experience itself but the location is very convenient. It's right opposite Altaf cafe which is the beginning of the Dolphin nose and Vellagavi hike. It's also a 10 min run from the Red stone point which is one of the nicest places to see the sunrise in Vattakanal and Kodaikanal.
Karuna Farms
Quaint AirBnBs/ Private Rooms
Satya Surabhi AirBnB:  The proceeds from the guest house go towards running the schools for underprivileged kids in the same compound.
Woodhouses in Vattakanal
Also Read: Kodaikanal – Places to Stay
PLACES OF WORSHIP
Kurinji Andavar Murugan temple: Built in 1936 by a European lady who later converted to a Hindu
Poombarai Murugan temple (20.4 km from Bus stand)
La Saleth Church: One of the only two churches around the world dedicated to lady la Saleth. On 14th and 15th August every year, people gather to venerate Lady Saleth.
CSI Christ the king's church
Lutheran church: Built in 1932
PLACES TO EAT
Indian food
Tavaa Restaurant: Located at the beginning of PT road, Tavaa serves freshly prepared food that has a slight Dhaba feel to it. Their service is quick.
Astoria: Right outside the bus stand, Astoria serves a great variety of south Indian food. I especially love their range of dosas.
Hill Top Restaurant: A very typical Indian restaurant, they are one of the oldest in town.
Hamuse: Again, by the bus stand (Opposite Astoria), Hamuse is known for its fine dining experience that is unparallel in Kodaikanal.
Multi-cuisine
Aby's: My favorite is their lunch meal and falafel sandwiches. Their food and cafe has a very homely feel to it which got me hooked to them. It has been my workstation, my go-to cafe in Kodaikanal.
Cloud Street: They are known for their pizzas.
Ten Degrees
Muncheez: Love their veg-roll and cheesecake.
Tibetan Restaurant: There are two Tibetan restaurants in close vicinity, both have almost identical offerings. Love the momos and Tibetan bread with curry.
Cafes
Pastry Corner: They are known for their fresh offerings every day. I especially love their ginger cookies.
Cafe Kariappa
Places to Drink
• Hotel Carlton
• Hotel Tamil Nadu
• Kodaikanal international hotel
Note: No other place has a bar but there are multiple TASMAC stores (one is a little ahead opposite bus stand, another one is on AnnaSalai Road, about 200m from bus stand)
SHOPPING
Kodaikanal itself doesn't have any handicraft industry. The handicraft being sold here is usually imported from the northern parts of India. The local produce primarily consists of
• Soap
• Essential oils
• Cheese
• Chocolates
• Fruit preserve
Places to shop from:
George's Gourmet Kitchen
Location: Their bakery is on observatory road but their products can be purchased from Hoopoe on a hill or the Cheese Shop (opposite near skating rink)
My pick: Dijon Mustard, and Arrabiata pasta sauce
A small artisanal bakery that staffs predominantly local women. Their offerings are packed with flavors from four kinds of mustards to pasta sauces. I had especially fallen in love with their sourdough bread (which I believe they have now stopped making unless there's a special order).
Pizzas made using their pasta sauce tastes divine and is ready in less than 10 minutes.
You can shop George's Gourmet kitchen products on Amazon.
Hoopoe On a Hill
Founded by Priyashri and Nishitha, Hoopoe on a hill collaborates with the Adivasi community for wild honey gathered by them in turn providing them a constant stream of business with fair pay. They have a range of honey and beeswax wraps, crayons, etc.
Linen Plus
This tiny store on PT road is a one-stop-shop for home linen needs. If you have the time and patience to dig, you might find some pieces from old stocks too that they at times give out for really cheap prices.
My pick: Fitted sheets, smocks
Potter's Shed
Stoneware pottery is alone to take the house to a different level of charm. One reason I want to get a house is so I can buy lots and lots of stoneware pottery. They are microwave safe and come in many various glaze.
My pick: Kettle, Salad bowl
The Eco Nut/The Health Food Shop
Has oils, chocolates, organic fruit preserves, peanut butter, forest honey among other things
Kiki's Book Store
Fruit preserves, cheese
Kodai Cheese
They have a large collection of cheese including goat cheese, feta, Kodai cheese, etc.
Sunday Market
Sunday market is when PT road turns into a big market area. The locals flock to the place for their weekly supply of vegetables. The range is just beautiful to look at from special hill station fruits and vegetables to socks, the Sunday market has a lot to offer.
My pick: Socks, avocados (seasonal), and other seasonal fruits and vegetables.
COMMUTING IN KODAIKANAL
There are no autos in Kodi or motorbike rentals which makes commuting quite difficult. Locals buses do have service to nearby villages but hardly anything to these tourist points.
I spent the seven months relying on my feet.
There are two taxi unions in Kodaikanal, the minimum fare is 150 for one and 200 for the other one.
BUS SCHEDULE
Madurai

Batlagundu

Dindigul

Palani

Bangalore

Trichy

Chennai

Coimbatore

Kanyakumari

Rameswaram

Kodai Road

0650

0735

0620

0600

1730 (setc)

1340

1830
(ud)

0830

0845

0830

1830
(ud)

0720

0850

0755

0750

1805
(ksrtc)

1540

1845
(srm)

1630

0800

0910

1010

0830

1905
(ksrtc)

1740

1845
(tat)

0830

1040

1050

1015

1800
(kpn)

1600

1910
(ybm)

0900

1105

1140

1215

1830
(kpn)

0950

1110

1220

1310

1830
(srs)

1040

1520

1340

1340

1900
(stc)

1200

1600

1440

1515

1930
(stc)

1300

1650

1540

1545

1915
(tat)

1330

1700

1640

1630

1400

1750

1700

1930

1450

1835

1800

1520

1900

1825

1640

2000

1915

1715

2100
Traveling from Bangalore to Kodaikanal or Chennai to Kodaikanal is quite easy with multiple overnight buses available.
The nearest airport is Madurai. A cab would charge Rs. 3000 from Madurai airport to Kodaikanal.
The nearest railway station Kodai Road is about 80 km away. This 80 km is all through hills so consider it before booking a train to Kodaikanal.
CHALLENGES BEING FACED BY KODAIKANAL
1.  Large-scale cultivation of Eucalyptus: Eucalyptus is not native to Kodaikanal. It was introduced by British officers and the invasive species are known to be one of the reasons for lower water tables.
2. Water Scarcity: The onslaught of tourism has had a direct impact on water. To cater to the tourist season (April and May) the civic bodies start to curtain the water supply starting in January. During the season time, residents get water once a week and in some areas once in 10 days.
The ban on digging borewells means heavy dependency on municipal water.
NGOs WORKING TOWARDS CONSERVATION OF PALNI HILLS
Palni Hills Conservation Council (PHCC)
Website: www.palnihills.org
Founded by the people of Kodaikanal, PHCC works towards developing environmental research and intervention work needed in Palni Hills (an offshoot of Western ghats in Tamil Nadu).
Some of the crucial work they do includes plating and distributing native 'sholai' trees. It was PHCC that brought attention to the illegal thermometer factory owned by HUL (now shut down).
The below poem by Nandita Vijayaraghavan describes beautifully how I feel about Kodaikanal (Kodi).
"In the viel of dark midnight,
Peer two eyes gleaming like moon light,
A bison saunters across the field,
Crying out as loud as it can yield.
The lake is in shades of blue and navy,
Where the lilies grow white.
A gorgeous palomino trots in a meadow,
When it tosses its maine – Oh! what a sight.
A vision of goodness,
happiness and glee,
That's what Kodi means to me. "
-Nandita Vijayaraghavan